Simcenter Anovis (Acoustic Noise and Vibration Signal) offers a complete software and hardware platform for industrial quality testing.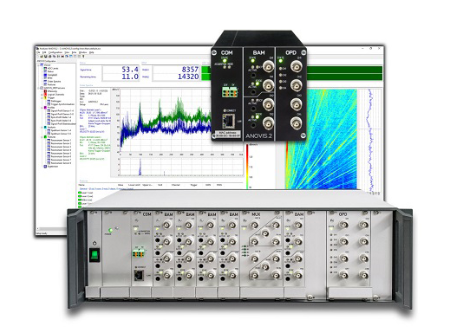 The reliability of the assessment functions is ensured by standard  Measurement System Analysis (MSA). Simcenter Anovis  is based on innovative sound and vibration-based fault detection algorithms that combine automatic limit adjustment with traditional NVH measurement functions. Simcenter Anovis automatically identifies product or process anomalies within seconds.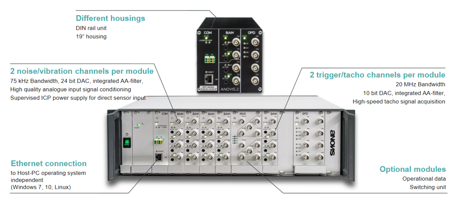 Why Simcenter Anovis?
Rapid industrial quality testing
High reliability of the test equipment is achieved by implementing short cycle times and results in high throughput during series production. This increases the level of automation, reducing manual operations and operator errors.
End-of-line testing
Process-safe, fully automated and highly reliable error detection, under volume production conditions by measuring vibrations and sound. Typical applications include internal combustion engines, gearboxes, electric motors, and engine-driven components and systems. During production, assembly errors and component defects are detected within a few seconds, along with characteristic (noise) characteristics.
Non-destructive testing
Non-destructive testing is performed using acoustic resonance testing (ART) - acoustic control technology that evaluates the natural vibration behavior, which describes the complete component in terms of material, structure and geometry. The presence of cracks is detected by looking for differences in resonant frequency, bandwidth and amplitude.
Process monitoring
Process monitoring solutions are used to inspect fast-running production machines, such as presses, saws, punching machines, etc. The sounds and vibrations of the machine are evaluated using vibration and sound analysis. Broken parts, damaged material, foreign bodies, dirty print settings and more are immediately recognized and the machine is stopped.

Anovis (Saab) dataheet

Frequently asked questions for electric motor testing with Simcenter Anovis

Article: End-of-line quality testing, Robust and reliable EOL testing during manufacturing adds value to a product
by confirming the quality – meaning that the part meets its specifications
www.AutomotiveTestingTechnologyInternational.com 
NOVEMBER 2019