Simcenter Battery Design Studio
Simcenter Battery Design Studio (BDS) is an excellent tool for digital Li-ion battery design. In the program it is possible to specify in detail the characteristics of individual battery cells. The software includes an extensive library of battery cells with material properties, which is essential for the design phase of batteries and battery packs.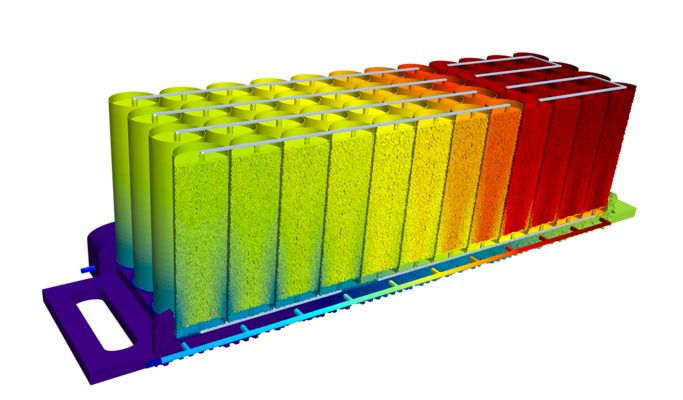 Why Simcenter Battery Design Studio?
Physical description of cells using parameterized GUI environment
Simcenter Battery Design Studio offers standardized battery component specifications. Each battery component can be defined in detail.
Integrated environment for battery design and simulation
Simcenter BDS offers several levels of performance models - macro-homogeneous models allow insight into cell electrochemistry. It is possible to simulate eg the mechanism of voltage loss during the duty cycle or to calculate the heat distribution on the electrode.
Solve complex multi-physical tasks through easy integration with Simcenter STAR-CCM +
For connection with Simcenter STAR-CCM + software, a TBM file is generated, by means of which it is possible to calculate the electro-thermal simulation of the whole battery module.
Design Exploration - Automatic optimization of the design and performance of battery cells
Already in the initial design phase, it is possible to identify how the thermal properties of the battery packs can be improved, which may not always be optimal due to the inefficient distribution of the cooling medium. Poor battery cooling can affect the electrical performance of overheated cells or the overall life of the cell (and the associated safety).
Easy integration with system simulations
The empirical creation model in Simcenter BDS allows you to export the necessary parameters for modeling the entire system (which can be done eg in Simcenter Amesim). The behavior of the designed battery pack can then be assessed in simulating entire systems, eg for an electric rail vehicle, an aircraft, or a smart house.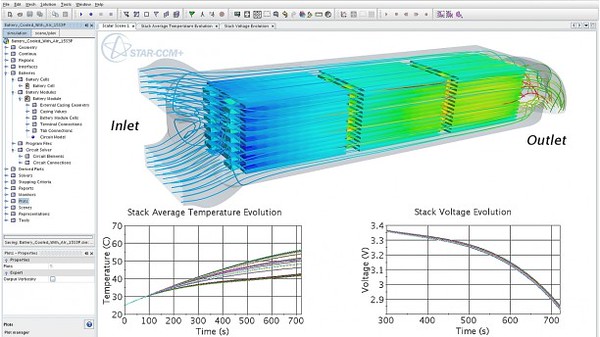 More about Simcenter Battery Design Studio: Simcenter Battery Design Studio